Thursday, December 25, 2014 at 10:22PM
Clearly Crafty
Print Article
Email Article
Permalink
Great Christmas day, right?! Got up, got ready and went to Blake's parents' place for a nice late breakfast. After the delicious breakfast we exchanged our gifts. Hubby got me a very thoughtful charm for my Pandora bracelet besides other great presents.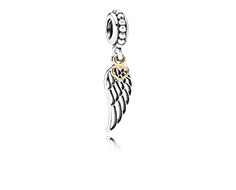 Love and Guidance
This beautiful charm is called Love and Guidance and he thought it was great because the wing signifies my successes (first handmade items I ever sold both at a show and on Etsy had wings in the design)and the heart signifies our love. Isn't that sweet?
Blake's parents were also very thoughtful, got me lots of gift certificates (hurray for the gift of shopping)! Everyone seemed pleased with what they received, but the most important thing was that we had a great time chatting and laughing all morning.
Hope you also had a fantastic Christmas and have some time off so that you can get the rest you deserve!
* Sorry for the short post, but it's Christmas, so I kinda want to unplug and veg out for a bit!