Saturday, January 10, 2015 at 7:53PM
Clearly Crafty
Print Article
Email Article
Permalink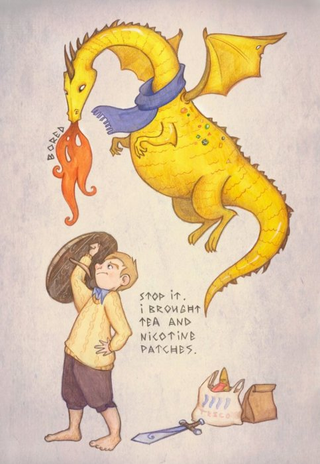 by Sm0otchie on Deviant Art (Click Image for the artist's gallery
We are going to watch the Hobbit's third and last instalment finally. I have been kind of reluctant to watch it to be quite honest. As a big fan of J.R.R. Tolkien, I definitely am into the franchise, but a few things about the Hobbit trilogy tick me off:
1. It's a trilogy. Why was a very small book made into a trilogy? So that more money could be made.
2. They took out some characters and added in a girl elf; apparently because the Hobbit needed a romantic subplot. It didn't.
3. Very distracting make-up mistakes. Just watch the dwarves' hands...
I'll stop there. So why would I even want to see it? Mainly because I saw the other two and want to wrap it up (and possibly complain more). The other reason is my love of Benedict Cumberbatch and Martin Freeman. I love them in Sherlock and can't get enough of Cumberbatch's velvety deep voice.
Now, I will watch an episode of Sherlock with hubby (he hasn't seen season 3 yet) while continuing my DIY and tomorrow we will go and see the Hobbit: The Battle of the Five Armies. I probably will like it more than I hate it (both feelings will be present, that's for sure). Either way: Hurray for Smauglock!